The Finance and Accounts Department is headed by a Director from the Office of Accountant-General of the Federation (OAGF).  The department is charged with the following responsibilities:
Financial control and management of funds.
Maintaining financial prudence, transparency and accountability.
Keeping of adequate books of accounts and records.
Preparation and execution of budget.
Provision of financial advisory services to all Departments, Units and Agencies in the OSGF.
Rendering returns to OAGF and other Government Agencies.
Collection and remitting of Revenue.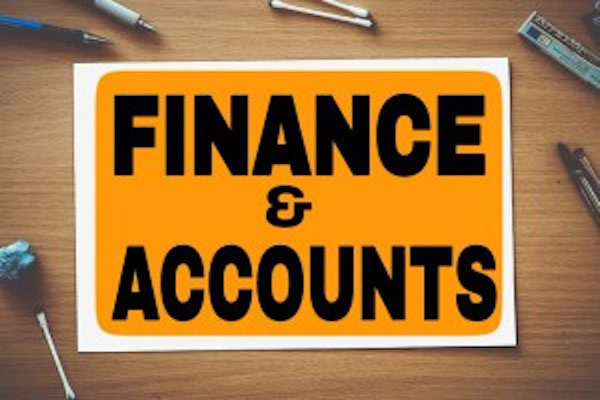 With the advent of PF Reforms, treasury functions are largely carried out through the GIFMIS and REMITA platform.
The IPSAS Accrual Basis of accounting has also taken effect from 1st January, 2016
STRUCTURE
The Department is structured into four divisions, namely:
Finance
Accounts
Budget
Ecological Fund Accounts
In addition, there are various Sections structured around its core responsibilities.
a)    Central Pay Office (CPO)
 Receives audited payment voucher for payment
Keeps Treasury cash books to record all payments and receipts.
Maintains all Treasury Registers.
b)  Revenue
Collect revenue on behalf of government
Issue Treasury receipt
Remit all revenue collected
c)  Checking
Receives and checks all payment vouchers.
Ensures that vouchers raised complies with lay down rules and regulations.
Ensures the accuracy and completeness of vouchers before it goes to Audit.
d)  Other Charges
Preparation of recurrent and capital payment vouchers.
Ensures that payment is duly approved, before raising of vouchers.
Ensures that relevant documents are available for each transaction.
e)  Salaries (IPPIS)/Variation
Preparation of staff variation.
Preparation of monthly staff salary.
f)   Advances
 Maintains ledger of individual advances.
Ensures prompt retirement of advances.
Renders returns of unretired advances
g)  Funds
Maintain records of allocations received from the Budget Office.
Issue AIE (Authority to Incur Expenditure) to finance expenditures.
Liaise with Budget Division to manage the Appropriation for the year.
a)  Final Accounts
Preparation and submission of monthly Trial Balance to OAFG.
Maintains the Fixed Assets Register.
b)  Reconciliation
Collects bank statements and prepares monthly reconciliation statement.
Early detection of errors/fraud.
c)   Audit Query
Responds to all audit queries.
Prepares the office to meet with PAC, if necessary. 
d)   Agency
Conduct financial surveillance of Agencies under the Office of the Secretary to Government of Federation.
Collate monthly financial report from the Agencies
Make necessary corrections and recommendations to management on areas of lapses observed.
Monitors compliance of financial transactions of Agencies in line with Financial Regulations and Enabling Act.
e)      Project Accounts
Coordinate the activities of project accountants
Carry out timely rendering of appropriate reports on projects   
f)       Forex
Coordinate the Constitutional entitlements of former Presidents, Head of State and their Deputies
Interface with CBN for foreign exchange transactions.
The Division is in charge of both the Capital and Recurrent Expenditures Budget of OSGF.  Capital branch carries out all activities relating to Capital items while all activities relating to Personnel and Overhead Costs are carried out by recurrent branch.  The Division also coordinates and supervises the Annual Budget preparation of Agencies under its purview, after which it collates the Budget estimates and transmits same to Budget Office of the Federation.  The Division also coordinates the quarterly monitoring of Budget Implementation and Performance of OSGF projects and programmes.
The division is assigned to work directly with the Ecological Funds Office (EFO) to process payments for Ecological related projects under the purview of the Office of Secretary to Government of the Federation and to maintain appropriate accounting records for all the transactions.
Ecological Funds Office handles largely intervention projects as approved by Mr. President.  Funding of these projects is drawn from the Ecology & Derivation Funds Account managed by the Office of Accountant General of the Federation. The projects are categorized as follows:
Soil Erosion and Flood Control
Pollution Control
Drought, Desertification and Coastal Zone Management.