The Federal Government has sought the support of the European Union (EU) in its quest to deepen and consolidate on its democratic practices, particularly, as it concerns its electoral processes.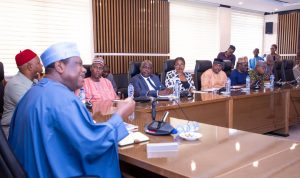 The Secretary to the Government of the Federation, George Akume, CON, made the appeal while receiving in audience the delegation from the European Union Election Observation Mission (EU EOM) led by its Chief Observer, Barry Andrews in his office.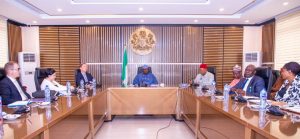 While giving the trajectory of Nigeria's democratic development, the SGF said the nation has enjoyed considerable improvement in its electoral processes over the years and therefore appealed for support to consolidate on the gains so far achieved since the return to democratic rule in the country.
He thanked the European Union Observation Mission for participating in the 2023 General Election across the country and emphasized on the importance of the use of the Bimodal Voter Accreditation System (BVAS) in the electoral process which was a game changer during the election.
Akume observed that the country made a lot progress in the 2023 general elections and called on the EU to continue to support such progress made to advance democratic principles in the country.
Speaking earlier, the Chief Observer of the European Union Election Observation Mission Barry Andrews said the purpose of their visit was to present their final report of the 2023 General Election which they monitored after their deployment to Nigeria. He added that the report which comprises of six priority recommendations, to include on constitutional, legislative and administrative.
He further said that in the furtherance of their report of the 2023 General Election, the EU EOM will have a follow-up mission to Nigeria after two years in order to engage with Nigeria's authority on the status of the implementation of its recommendations.
Also speaking, the European Union Ambassador to Nigeria and to the Economic Community of West African States (ECOWAS), Samuela Isopi said that the European Union has been supportive of the nation's return to democracy and has been working with INEC and other key stakeholders in bolstering democracy. She added that the Union is ready to sustain its support in deepening its electoral processes and to also invest in other key sectors of the nation's economy.
Willie Bassey
Director, Information
27th June, 2023